Supply Chain Finance Benefits
A Win-Win for Buyers and Suppliers
Typically, optimizing working capital is a zero-sum game where you extend payment terms to the detriment of your suppliers. Supply chain finance changes the equation by letting you provide early payment flexibility and certainty to suppliers, supporting a healthier and more robust supply chain, all while improving your liquidity.
Eliminate production gaps and reduce risk by ensuring supplier financial stability.
Extend payment terms to unlock working capital without negatively impacting suppliers.
Providing suppliers affordable access to cash improves their cash flow and productivity.
How Supply Chain Finance works
Offer Early Payments With Upside
Supply chain finance lets you utilize a third-party funding source to fund supplier early payments in exchange for invoice discounts. You then pay the funder at the maturation of payment terms so you can hold onto your cash longer. Programs are often introduced in tandem with a terms extension.
The Evolution of Supply Chain Finance
Combining Funding Expertise, Supplier Service, and Technical Wizardry
LSQ has been delivering working capital solutions to small-to-medium businesses for more 25 years. Leveraging a wealth of experience and knowledge, our platform balances corporate treasury and supplier needs—while being flexible and intuitive. See what makes LSQ FastTrack® different.
Program Funding
Unparalleled flexibility
At LSQ, we structure your program to meet your changing liquidity needs by providing the most extensive program funding options of any supply chain finance platform.
You can utilize your own cash with dynamic discounting or we can fund a supply chain finance program through various third-party funding sources including LSQ. Our platform is flexible enough to combine multiple funding sources to run supply chain finance and dynamic discounting programs simultaneously.
Third-party funding sources

Combine different funding sources
Implementation
Quick and easy to launch
With no-code, SFTP, and API data integration options we simplify the implementation process so you can accelerate your launch date and get started in a matter of weeks instead of months.
Supplier enrollment is a breeze, they can enroll in 2 minutes without invasive background checks, complicated liens, or personal information. We'll verify their bank and that they're an authorized supplier and they are ready to start accessing on-demand payment.
No-code, SFTP, and API implementations

2-minute supplier enrollment with no red tape

Launch in a matter of days, not months
Supplier Enrollment & Utilization
Maximize your investment
Our team analyzes your supplier and accounts payable data to formulate and execute a supplier enrollment plan to maximize adoption. We handle outreach and education for all your suppliers so you can stay focused on your business.
Suppliers love and use our platform because its uncomplicated, offers attractive rates, and provides access to invoice financing for their other receivables.
Total Payments Management
Maximize supplier utilization by opting for LSQ FastTrack to handle the payment of all of your supplier invoices.
Program ACCESSIBiLity
Expanding supply chain finance to the mid-market and beyond
For years, supply chain finance has only been accessible to large, investment-grade corporations. But with LSQ's credit expertise and funding partners, it's a whole new ball game. We've expanded the supply chain finance market to now include mid-market companies and those with unrated, private or non-investment-grade credit.
Technology to Control and Maximize your Working Capital
Take Control with the Leading Working Capital Platform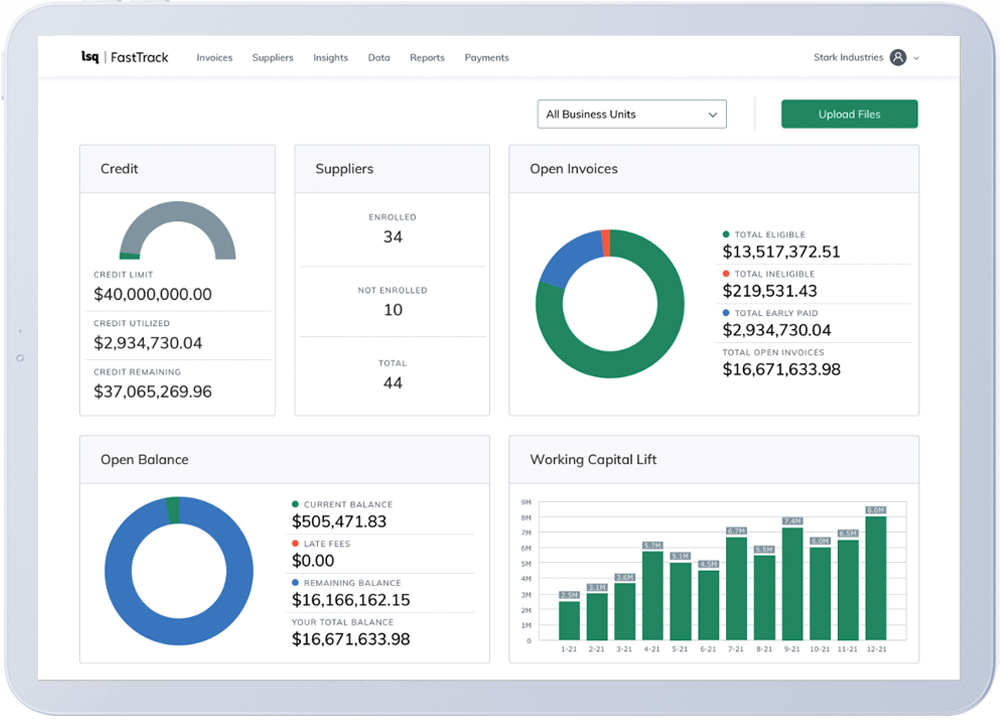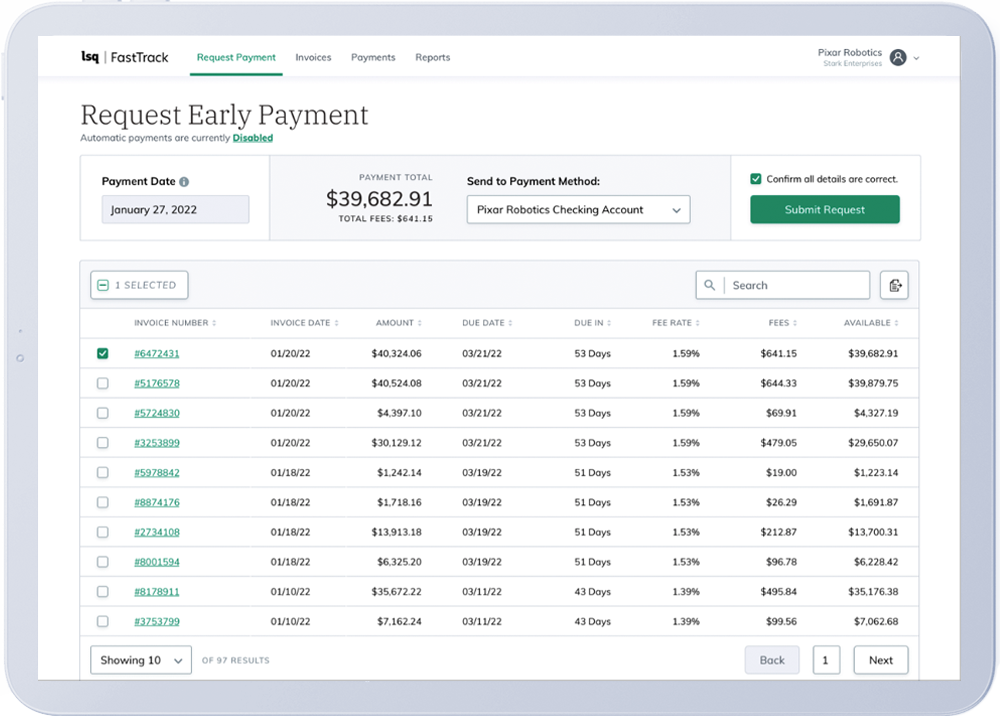 SUPPLIER EXPERIENCE
Expand Supplier Access to Working Capital
Click-to-select invoices for early payment

Automate or set payments to new terms

Flexible same-day ACH payments

Advance all receivables with Invoice Finance
Hear From Customers and Suppliers
Articles about Supply Chain Finance