Working Capital Insights
Make data-backed decisions
LSQ FastTrack® provides businesses with spend and working capital insights that help you optimize your cash conversion cycle, identify opportunities and minimize risks.
Standardize DSO and DPO
Get a handle on the different Net terms of your accounts payable and receivable, benchmark against industry standards, and see your net working capital lift over time.
Identify payment trends
Monitor customers payment behaviors to spot potential risks, identify slow payers, late payments, discounted invoices and more.
Monitor supplier engagement
Keep an eye on supplier adoption and utilization of your supply chain finance program. Understand spend volume, supplier concentration, and which suppliers need capital the most.
REAL-TIME CUSTOMER CREDIT
Understand your customers
LSQ's credit engine uses in-house and third party data to make instantaneous credit decisions about your customers. Based on our credit limits, you can understand the credit-worthiness of current and potential customers to help you reduce risks.
Instant credit decisions on current and prospective customers

Real-time credit and fraud monitoring

Assess the creditworthiness of customers with credit lines

Request credit line increases from within FastTrack
REPORTING & DASHBOARDS
Get a 360-degree view of your cash flow
Our dashboards and reports provide a real-time, transparent overview of your accounts payable and receivable. Dive into the details with in-line reporting, useful help text, fee overviews, and filtering by date, customer, or by business units.
Buyers get access to additional dashboards to monitor the success and utilization of their early payment programs.
Invoice aging, collections, and working capital reports

Real-time data on purchases, collections, and fundings

Payment reconciliations and customer check images

Easy to read dashboards that surface important data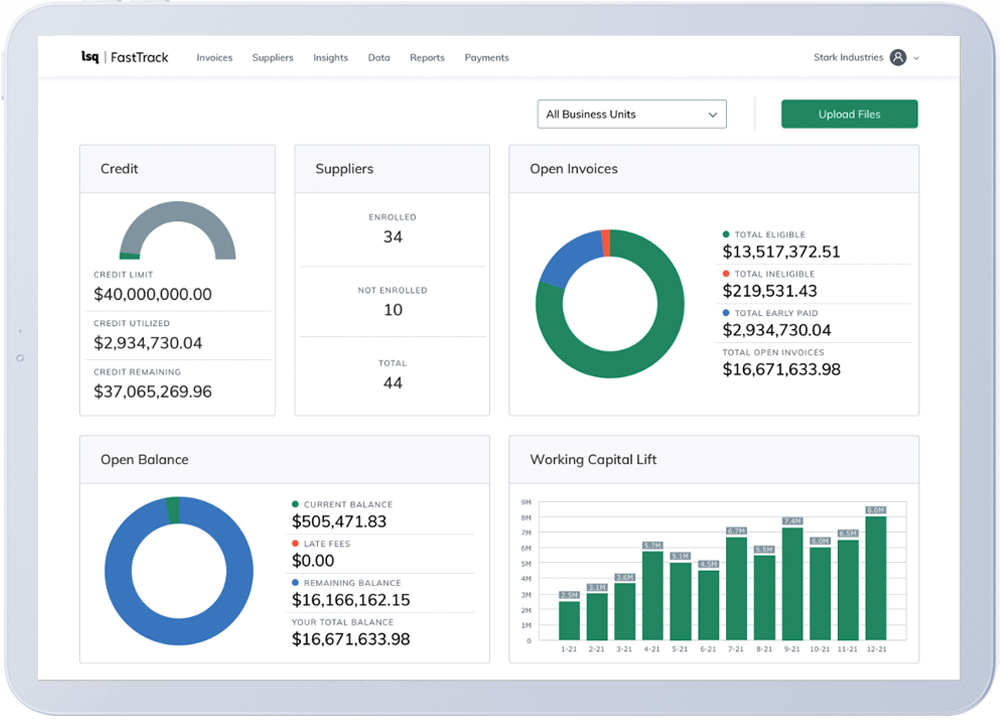 Extensive Data Lake
A byproduct of invoice and supply chain finance is the breadth of proprietary invoice data that augments the value of most third-party and standalone financial statement data.
Transactional Data
invoice date, invoice amount, payor, collection date, collection amount
Financial Data
income statement, balance sheet, cash flow statement
Firmographic Data
name, location, size, industry
Third-party Data
Experian, Dun & Bradstreet, ZoomInfo